Chiropractic Treatment and Pinched Nerves
A pinched nerve can occur when there is a problem with the alignment of your spine and the surrounding soft tissue is compressed, causing pressure on one of your nerves. At Capital Rehab of Crofton, we provide assessment and treatment for pinched nerves and other spine conditions to help you find pain relief and improve your overall well-being.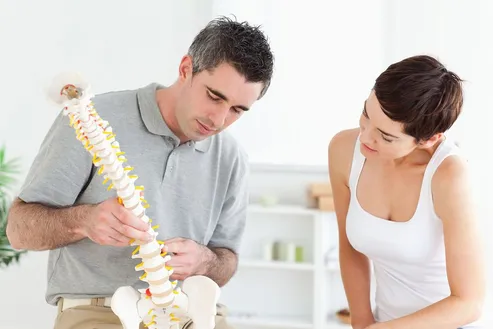 Symptoms of A Pinched Nerve
When you are dealing with nerve pain, you may experience numbness, tingling, or pain that doesn't respond well to over-the-counter medications. The pain may be severe at times, making it difficult to move, roll over in bed, or walk. If the pinched nerve is in your lower back, you can have pain from there all the way down to your foot. A chiropractor will determine what is causing your pinched nerve and look for ways to improve the issue.
Your Initial Assessment with A Chiropractor
A chiropractor will take a careful look at your spine and ask you questions about the pain you are in. After taking a medical history and doing a physical exam, your chiropractor will develop a treatment plan to help you recover from a pinched nerve. Chiropractic care is conservative treatment, and can postpone or remove the need for surgical intervention.
Treatment for A Pinched Nerve
Treatment for a pinched nerve often involves decompression techniques to reduce pressure on the affected nerve. Your chiropractor may teach you core strengthening exercises to improve the alignment of your spine, which can reduce compression. Adjustments can help open up the space and give your nerve time to heal. A chiropractor may use manual therapies such as ultrasound or massage to decrease inflammation in the area and support your muscles and ligaments as they heal.
Pinched nerve treatment can occur several times a week in order to provide relief. As your core gets stronger, you may find a significant reduction in your symptoms. Chiropractic care will not interfere with other treatment you are receiving and does not use prescription medication to manage your symptoms.
Visit Your Chiropractor For Help With A Pinched Nerve
If you have localized pain in your back, pain going down your arm or leg, and you suspect a pinched nerve, it's time to visit your chiropractor to see what is going on. With the right care, you can find relief from a pinched nerve. Contact Capital Rehab of Crofton at (410) 451-3561 and set up an appointment with our chiropractor to learn more about chiropractic treatment for a pinched nerve.