Chiropractic Care for Sciatica from a Chiropractor on Our Team
Sciatica occurs when the sciatic nerve becomes pinched or damaged. Some people with sciatica reach for a bottle of over-the-counter pain medications to deal with the discomfort. However, even though sciatica is a painful, there might not be a need to take drugs or fear the risk of undergoing an invasive surgical procedure. Chiropractic care can help treat sciatica and other musculoskeletal-related conditions using non-invasive, drug-free treatment options. A chiropractor on our chiropractic care team at Capitol Rehab of Crofton, MD, offers various types of chiropractic care for patients with sciatica.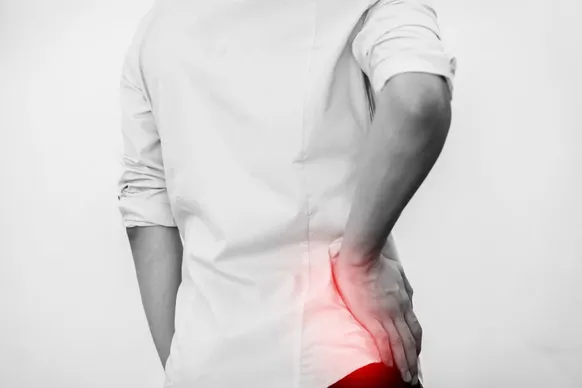 What Causes Sciatica?
The sciatic nerve is the largest in the body, running from the lower spine through the hips and down the legs. When the surrounding tissue puts pressure on the sciatic nerve, it can cause pain, tingling, numbness, and discomfort. The pain may be consistent or worsen based on your actions.
Seeing a Chiropractor for Sciatica Pain Relief
A chiropractor can help treat sciatica using various alternative, holistic treatment options without surgery or prescription pain medications. The treatment options can vary based on your situation and what is causing sciatic nerve pain.
Chiropractic Care for Sciatica
Chiropractic care can help provide patients with many benefits in treating their sciatic nerve pain. Depending upon your treatment plan with a chiropractor on our team, therapies may include massage, stretches, acupuncture, or physical therapy. Discuss your symptoms with a chiropractor on our team to develop a proper treatment plan.
Will Sciatica Go Away on Its Own?
Some people experience sciatica symptoms that come and go on their own without the assistance of a chiropractor, pain medications, or other medical treatments. It might still be best to seek chiropractic care to treat the root cause of the discomfort and provide long-term relief. Whatever is causing your sciatica might be more serious than the pain indicates.
Get Chiropractic Care from a Chiropractor in Crofton, MD, for Sciatica Pain Relief and Pain Management
If you have been dealing with sciatic nerve pain that comes and goes or remains consistent, seeing a chiropractor on our chiropractic care team can help provide long-term sciatica relief. We at Capitol Rehab of Crofton in Crofton, MD, want to help keep you comfortable and pain-free by offering chiropractic care for sciatica. Call us at (410) 451-3561 to schedule a consultation with one of our chiropractors and learn more about how we can help with sciatica and other health conditions.