Non-Surgical Spinal Decompression helps chronic pain sufferers leave their pain behind.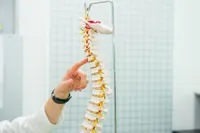 Spinal decompression therapy is a proven, and until recently, a little-known treatment for the relief of lower back pain. Depending on your condition, studies and our own experience have shown significant pain reduction success for between seven and nine out of ten decompression patients. You can find out if you're a good candidate through our online screening assessment questionnaire.Find out if you're a candidate right now.

The therapy works best for those who suffer chronic pain from:
herniated or bulging discs
degenerative disc disease
posterior facet syndrome
sciatica
a cute or chronic lower back pain
Non-surgical disc decompression is non-invasive and typically does not involve pain medications. It is not only safe and painless, but is also comfortable and relaxing (many patients fall asleep during treatment). The course of therapy includes approximately 15-24 treatment sessions and is completed in about 4-6 weeks. Each 30 minute session is performed on our DRS System, Model ABS decompression unit by a certified clinician specializing in back pain care.
How does non-surgical spinal decompression work?
Most chronic back pain is caused by damage to the discs in the lower back or neck. This leads to sciatica, back pain, leg pain, neck pain, arm pain, shoulder pain and a host of other symptoms. The problem has always been finding a way to treat discs without something invasive like surgery. Prior to decompression therapy there wasn't a step between chiropractic, physical therapy, other non-invasive options and surgery.
Unlike other structures in your body, discs don't have a very good blood supply, so once they're damaged they don't heal very well. Normally, a disc gets its nutrition from the bones above and below it through a pumping motion that increases with movement. But once a disc is damaged or torn, it loses its ability to maintain hydration and becomes dry and brittle. This leads to further damage, inflammation, degeneration and more pain.
The DRS System, Model ABS spinal decompression system we use at our clinics enable a doctor or therapist to gently, precisely and safely put tension on the lower back or neck and create a negative pressure inside the disc. This negative pressure creates a vacuum effect that actually draws the bulging or "slipped" material back into the center of the disc. It also draws fluids into the disc helping it re-hydrate and heal. (You'll see MRI proof in the decompression guide and Information Video we'll send it to you for free)
Unlike other treatments for back pain, the DRS technology actually heals the discs and makes them healthier. Most other treatments like medication and injections only cover up the pain until it wears off or you aggravate your back again. Not spinal decompression. In a recent study done on previous decompression patients four years after their treatment, researchers found that over 91% continued to be pain free.
Find out who your Crofton chiropractor can help you become pain free today, call (410) 451-3561.