If a car crash has left you with neck pain and stiffness, you may be suffering from whiplash. Whiplash is a common auto accident injury. These FAQs from Capitol Rehab of Crofton provide greater insight into whiplash causes, symptoms and treatment.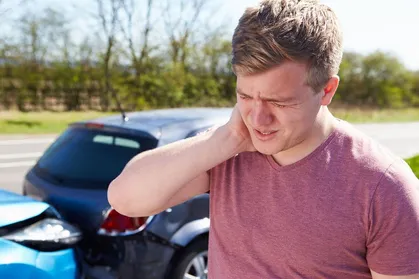 What is whiplash?
Whiplash is a neck injury caused by a sudden impact that snaps your head forward and back rapidly. This sudden movement of your head can put a strain on muscles and ligaments in your neck, resulting in pain and stiffness. By seeing our chiropractor shortly after your accident, you can get an accurate diagnosis for this condition.
Besides a car accident, what else can cause whiplash?
Car accidents aren't the only cause of whiplash. You can get whiplash from a slip and fall, a sports collision, a roller coaster ride, bungee jumping, or any other activity that has the potential to impact your neck and head.
What are some whiplash symptoms?
Whiplash symptoms may occur immediately after an impact or days or weeks down the line. The main symptoms are head and neck pain, but you may also experience muscle stiffness, shoulder pain, fatigue, dizziness, muscle spasms, loss of range of motion, lower back pain, or arm numbness.
How is whiplash treated?
Chiropractic care is specifically designed to treat musculoskeletal injuries like whiplash. After a thorough evaluation of your condition, our chiropractor can determine the cause and severity of your condition. This gives us a better idea of how to outline your treatment.
Depending on the cause of your pain, we may incorporate spinal adjustments, massage, and corrective exercises into your treatment. Spinal adjustments help alleviate pain by correcting misalignments in your cervical spine. This helps to relieve pressure off of spinal nerves.
Massage helps to reduce muscle tension and stiffness. It also increases blood flow to afflicted areas to promote quicker healing. Corrective exercises help restore neck flexibility and mobility. Using a combination of therapies increases the effectiveness of your treatment.
My car accident was only a minor one. Is it really necessary to see a chiropractor?
Even minor accidents can result in strained muscles or misalignments to your cervical spine. An evaluation by a chiropractor will determine if you've suffered an injury, whether you're experiencing pain right away or not. The sooner you get a diagnosis, the sooner you can start treatment to avoid long term problems later down the line.
See Our Crofton, MD Chiropractor for Whiplash Diagnosis and Treatment
Don't just put up with the pain and discomfort of whiplash. Contact our chiropractor for diagnosis and treatment of your condition. To schedule an appointment at Capitol Rehab of Crofton, call (410) 451-3561 today.